On 21 January, the nationwide forum, "Let's get excited from Tohoku! Olympic and Paralympic for everyone!" was held at Hotel Mielparque Sendai.
The aim of the forum was to increase the momentum from Tohoku towards the 2020 games, considering Olympic and Paralympic Games as a chance of reconstruction.
Three events shown below were organised in this forum.
(1) Practical reports of promoting Olympic and Paralympic education organised by school in Miyagi prefecture.
(2) Lectures by Olympian and Paralympian who are familiar with Tohoku.
(3) Enjoy fencing and boccia together.
Through this forum, participants were able to contact with athletes who are familiar with Tohoku, to know the state of Olympic and Paralympic education designed in school, and to feel closer to fencing and boccia which are Olympic or Paralympic Sports.
(1) Practical reports of promoting Olympic and Paralympic education organised by school in Miyagi prefecture.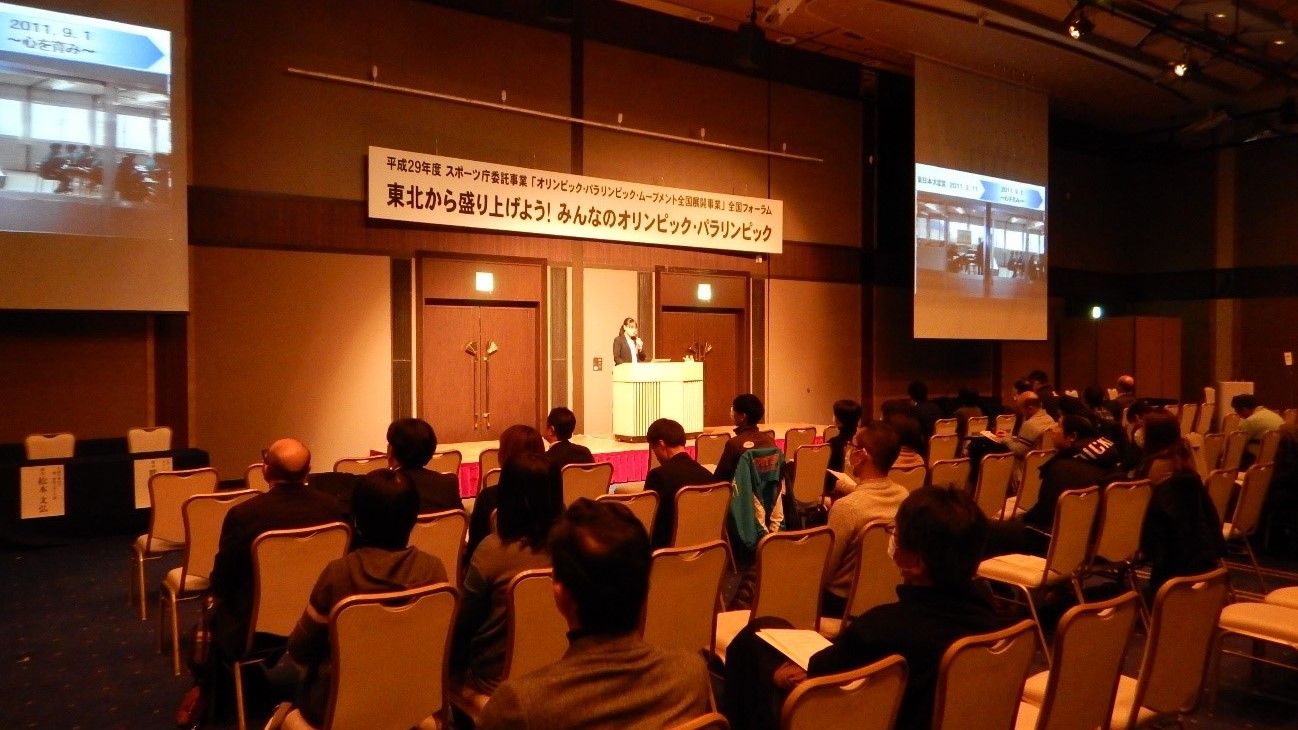 Teizan elementary school in Ishinomaki-city gave a report from a point of view that the way to connect every day's educational activities and the value of Olympic and Paralympic. As a characteristic practice, they reported the experiences of students' creating flower beds for a celadon stands of the former national stadium saved in Ishinomaki city, and state of "Challenge for Tomorrow! (Asu-chare! School!)", an educational activity to understand Para-sports in cooperation with the Nippon Foundation Paralympic Support Center.
Watanoha junior-high school in Ishinomaki-city reported educational activities related to Olympic and Paralympic Games that have been organised so far. In their report, they show the state of the school immediately after the Great East Japan Earthquake, the process of reconstruction after the earthquake, and sports event (i.e. sports day and "Marathon for reconstruct Ishinomaki") with a temporary school building. As an example of education for international understanding, Face-painting was reported too.
(2) Lecture by Olympian and Paralympian.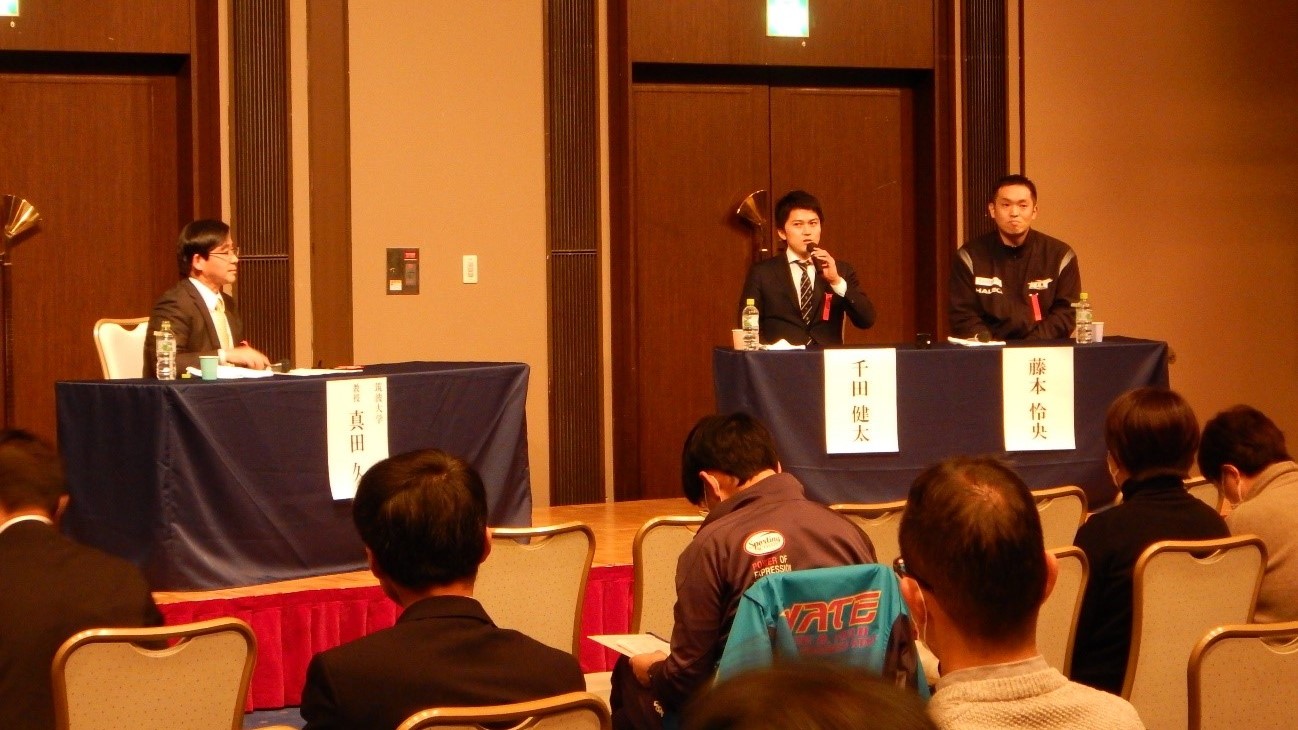 As a second part of the forum, Mr. Kenta CHIDA and Mr. Reo FUJIMOTO gave lectures.
*Mr. Kenta CHIDA… He is from Kesen-numa-city, Miyagi Pref. He got a silver medal for Fencing (foil team men) at London 2012.
*Mr. Reo FUJIMOTO… He belongs to MIYAGI MAX, a wheelchair basketball club. He continuously participated in 4 Paralympic Games from Athens 2004.
They talked about how they met and why they started the sport (fencing or boccia) the road to participate in Olympic or Paralympic Games, and activities to support reconstruction from the Great East Japan Earthquake through sports. After their lectures, a talk show moderated by Prof. Hisashi SANADA was held, and an idea of "Good looser" was introduced as an important keyword for the education through sport. They exchange ideas with the theme, "Human growth is desired when we lose the game", with giving some examples.
(3) Play fencing and boccia together.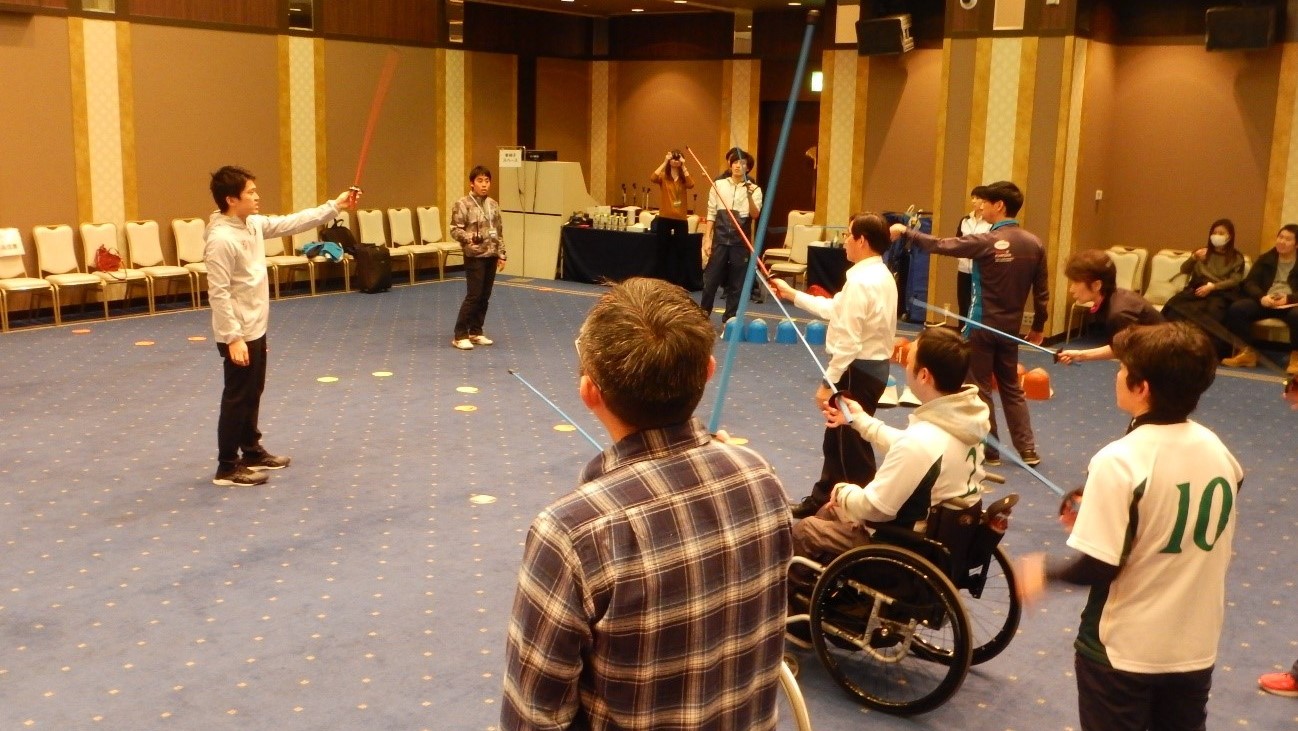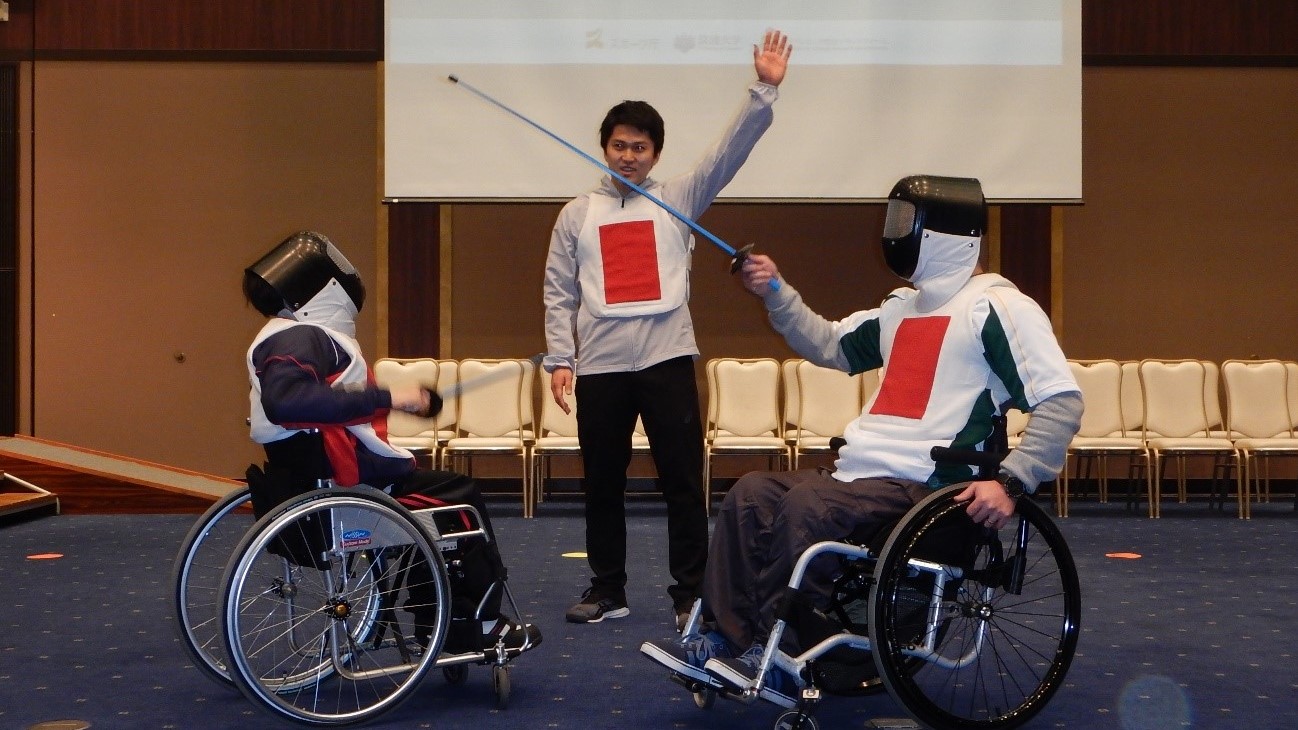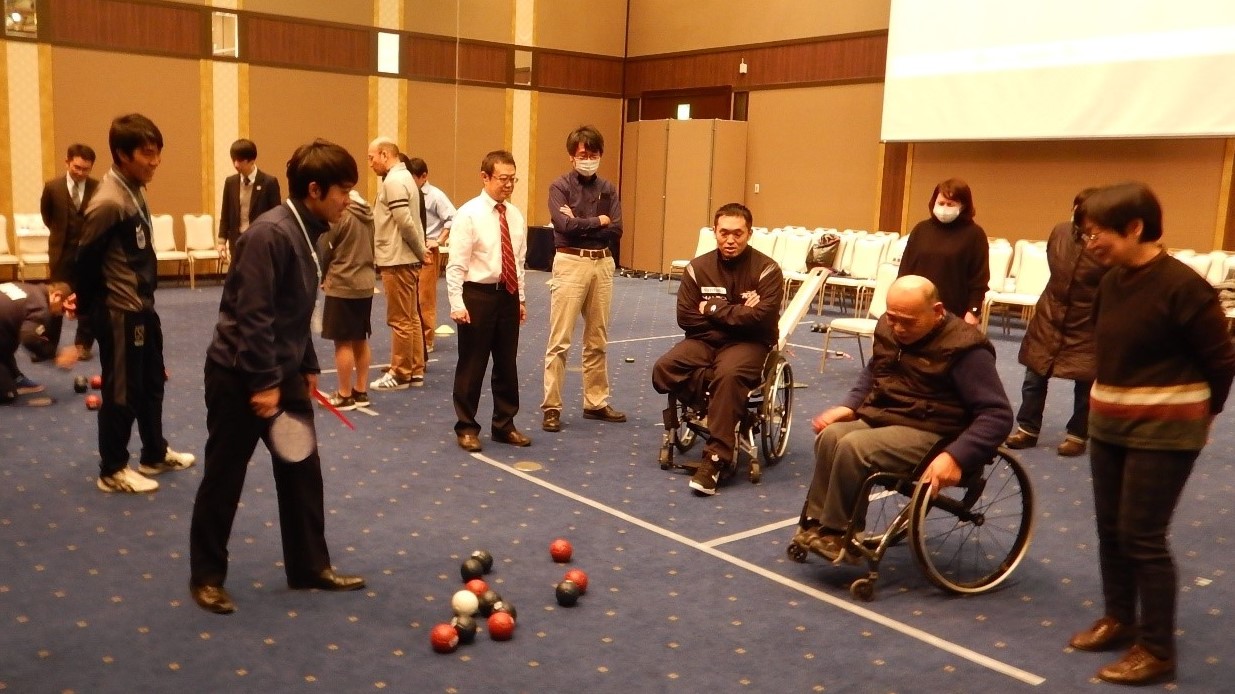 Participants were divided into two groups, and experienced fencing and boccia for 45 minutes each.
At the fencing space, Mr. Kenta CHIDA explained about basic steps and equipment of fencing. After the explanation, people enjoyed demonstration match using experience kit by Japanese Fencing Federation.
At the Boccia space, Mr. Shinji WAKAMATSU (who belongs to Tohoku branch of Japan Boccia Association) explained about characteristics and rules about boccia, and how to use an assistive device called "ramp". After the explanation, people are divided into some teams, and they enjoyed demonstration match.